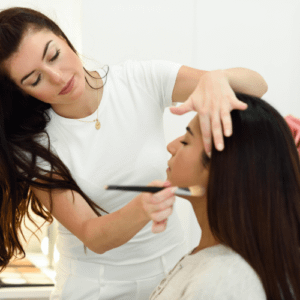 Australia is a beautiful country to live in and also a great place when it comes to weddings. Whichever season you choose to get married, they all have their own benefits.
In Australia, the wedding season runs from September to May. 
While November, March, October and April are the most popular months to get married, June to August are the months with least weddings which can also be a benefit when it comes to booking a highly requested venue.
 No surprise, that the most popular day of the week to get married is Saturday, followed by Sunday, Friday and Thursday.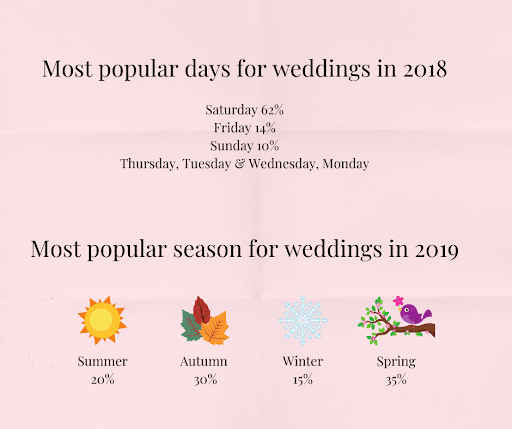 IMPORTANT THINGS TO KNOW ABOUT THE SEASON YOU CHOOSE TO BOOK?
From Spring over Summer to Autumn offer beautiful weather and the warmth gives your wedding some extra joy.
It also does influence the whole atmosphere and puts everyone in the right mindset. 
However, having your wedding between September and May is usually more expensive than a Winter month wedding. 
Popular dates can sometimes be booked out 2 to 3 years in advance. 
ADVANTAGES & DISADVANTAGES BY SEASON
Spring

 
1st September – 30th November
Advantages
Spring is the most popular wedding season in Australia and for many years due to the good weather – not too hot yet but also not too cold anymore. 
The range of blossoms might also be in your favour. 
You will have heaps of floral options for your wedding decoration as well as bridal bouguet. 
Moreover, there are no major public holidays coming in your way and people usually do not travel. 
Disadvantages
However, disadvantages are its popularity.
You will have to plan your wedding a long time in advance to secure the venue as well as having suppliers available. 
You probably will also have to plan with a bigger budget since suppliers and venues might charge more during peak times.
Summer 
1st December – 28th February
Advantages
Summer in Australia means beach and holidays. The beautiful weather might be in favour of most Australians, except for Queenslanders because it is rain season for them. 
Note:
The midday heat should be avoided. 
Morning and afternoon weddings can be beautiful outdoors. In summer, even in the evening to late night you can still celebrate outside with your loved ones because it is not getting too cold.
If you go for an indoor wedding, you can enjoy your ceremony with the comfort of air conditioning.
Autumn

 
Advantages
1st March – 31st May
Autumn is the second most popular wedding season in Australia. It is a season of transformation.
In autumn it is usually not too hot anymore but still warm enough for no one to freeze. 
The nature looks beautiful and you can take amazing wedding photos in parks or at your outdoor venue. 
Disadvantages
 It is peak wedding season, you have to plan ahead to ensure availability of suppliers and venues and as well as planning a higher budget. 
Winter 
1st June – 31st August
Advantages
Winter is the least common season to get married in Australia. 
While it might be quite cold, the advantage of a wedding hold during winter is that suppliers and venues are not as busy as they are in the other seasons. 
That means you will have a lot more choices and might be able to get married with a smaller budget.
You can still be lucky in winter and have your wedding on a warm day but deciding for an indoor wedding might be the safer solution to avoid your guests freezing. 
Disadvantages
Can be risky when choosing an outdoor wedding due to rain and cold weather.