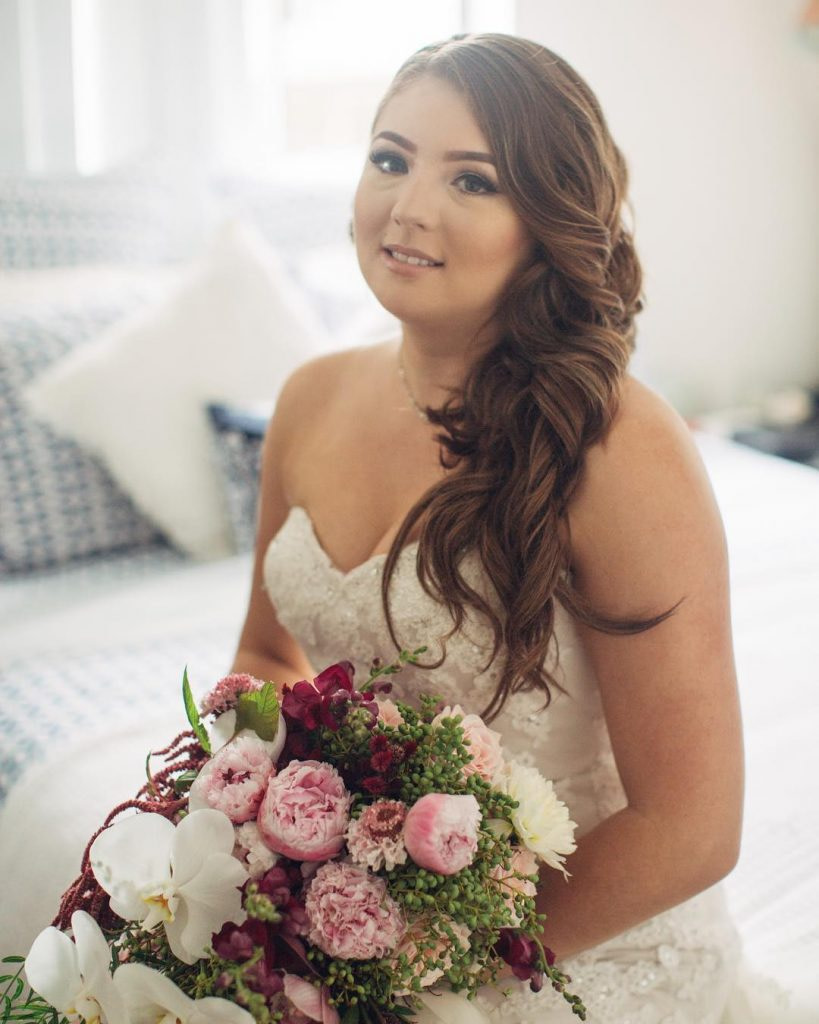 All eyes are on the bride on her wedding day. As she enters the ceremony or walks across the dance floor, wedding guests expect her to look her very best.
When planning a wedding, the focus seems to be on choosing the perfect dress. Once the bride-to-be has her gown in hand, she needs to decide how to wear her hair. Should it go up or down? Should she wear a veil, tiara, or a headband?
When deciding on a hairstyle for your big day, first consider the design of your dress. Often brides fall in love with hairstyles that are trendy but don't suit their gowns.
Use these suggestions and find the right hairstyle for when you walk down the aisle.
GENERAL TIPS
Don't know where to start? Whether you are wearing a princess-like ball gown or a stylish pantsuit, we can give you some direction on the perfect hairstyle.
Look at the neckline of your dress. You should pair a higher neckline with an updo.
If you are wearing a simple dress, you can be more extreme. For complicated dress designs, your hairdo should take a back seat.
Updo hairstyles look beautiful with a strapless dress.
A simple wedding dress looks great with loose waves or curls.
Pantsuits and modern dresses stand out when paired with a formal ponytail.
Large gowns look best with dramatic updos.
Tight updos are not always the most attractive, as they expose a lot of the forehead and neck.
If wearing your hair down, make sure it hits below the top of your dress.
If your hair isn't long enough for your desired style, consider extensions.
MATCHING YOUR HAIR WITH YOUR DRESS STYLE
Read about some popular choices for more specific, trending dress types.
The Classic Gown
A traditional wedding gown has simple, clean lines without a lot of embellishment. The neckline follows the collarbone. A classic bride should wear her hair up and off her face, reflecting the same style as the dress. The timeless and elegant pillow bun or French roll are perfect.
If you feel that this hairdo is too simple for your big day, you can add an accessory like a hair comb, headband or clip. This type of embellishment will give you a traditional look that matches the classic gown.
The Romantic Gown
Romantic wedding gowns have flowing fabrics, sweetheart necklines and lace accents. A dress like this demands attention. To keep a soft and sweet image, your hairstyle should be simple and loose. A simple ponytail draws eyes downward and gives attention to the dress. Soft curls that fall above the neckline make the style look natural.
The Modern Gown
A modern gown has asymmetrical lines, strong necklines and unique embellishments. Brides have a lot of hairstyle options for this dress type. Sleek waves look elegant. Brides often break the rules with a retro hairstyle to accompany their trendy gown.
The Bohemian Gown
A soft Bohemian dress has spaghetti straps and an empire waist, giving a bride a slimming silhouette. The neckline is typically a V-neck. Loose waves, simple braids or an imperfect updo provide a laid-back look matching the gown. Soft lines and feminine details enhance the natural looking hair with loose and relaxed curls.
FINDING A WEDDING HAIRDRESSER
If you want your wedding to be everything you dream of, have your wedding dress and hairstyle complement each other. Set up an appointment with a wedding hairdresser to narrow your options. An experienced professional will do a trial run to find the style that best suits your hair, personality and dress style.
Try out these tips, contact a professional hairdresser and make it easy to find the perfect match