Flawless mobile wedding hair and makeup
Your big day is a big deal, and we're here to make sure you (and your bride tribe) look and feel photo ready.
When it comes to your wedding day, we never want to feel like a stranger with a makeup brush. We'll be your BFF, your problem solver, and your all round confidante. We love getting to know what makes you tick and what makes you feel special. It's then, and only then, that we can create the look that makes your heart skip a beat.
Our team of wedding hair and makeup specialists customise every bridal hair and makeup package, covering everything you could possibly think of. You won't have to worry about a thing – other than saying 'I do.'
Bask in the bridal glow for your entire wedding journey.
So it happened. You put a ring on it! Much celebrating ensues. Then the panic sets in. From the moment you're engaged, there's a lot of photo-worthy moments leading up to the big day and you've got to nail your look every.single.time.
Our mobile wedding hair and makeup artists can work with you on creating effortless looks for all your big wedding milestones.
♡ Engagement parties
♡ Engagement photo shoots
♡ Bridal showers
♡ Hens nights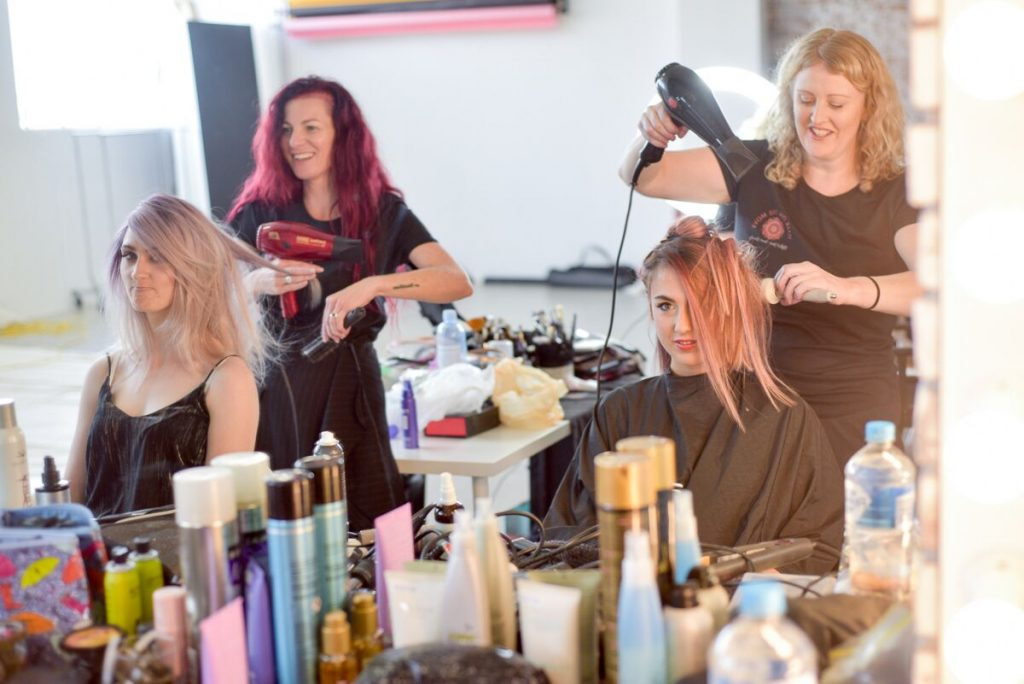 An experience in luxury and decadence.
For brides who want a truly white-glove, all-inclusive bridal beauty experience for their wedding, we've created a bespoke mobile wedding hair and makeup package.
The Diamond Package offers brides an exclusive team of bridal hair and makeup artists by her side for the entire day, right through to the last move on the dance floor.
What does your Diamond experience look like?
The Diamond Package is designed to truly pamper and give you all the time and attention you could want on your special day, so nothing is rushed and nothing is missed.
Before the big day:
A glam session where we plan all your looks for the wedding day, from first look to the first dance. These practice runs make sure you'll look exactly as you imagine when the big day comes around. Have another function or event coming up? Book your trial in at the same time to truly road test your look.
You and your girls will have prep blow drys the day before or first thing depending on your wedding location. That way, it'll be dry, tamed, and ready for us to work our magic on in the morning.
On your big day:
Wedding day beauty timeline creation
We'll plan your hair and makeup down to the last minute to make sure everything stays on schedule – and you stay calm.
One head artist to stay with you the entire day
Think of the head artist as your hair and makeup bestie for the day. She's the one who knows the look and feel you're going for, and will lead the other artists to ensure that you all look on point. She'll work tirelessly all day, coming along to your ceremony and doing touch ups on you and your girls for the photos. Perhaps you'd like a fresh look as you move into the evening? She'll be there ready to make it happen.
If your head artist is Beyoncé, these girls are her supporting act, ready to do whatever it takes to bring your vision to life. We've being doing this for a long time so we'll always recommend how many artists will work best for you and your bridal party.
Keep calm and marry on
Having a pro team that brings out your inner goddess is so much more than just a spritz of hairspray and a wash of lipstick.
It's radiating good vibes that put you at ease.
It's trusting your look will hold up through every photo, dance, toast, and selfie.
It's knowing they'll cater to every preference.
Our job is more than just making you look fab; it's to keep you relaxed and feeling fab too. Our bridal survival kits are packed with essential oils to soothe the nervous system and relieve nerves naturally. Our artists will mix the right blend for you and guide you through time-tested breathing techniques to keep you feeling calm and centred. It's just another way we help you ease into your big day.