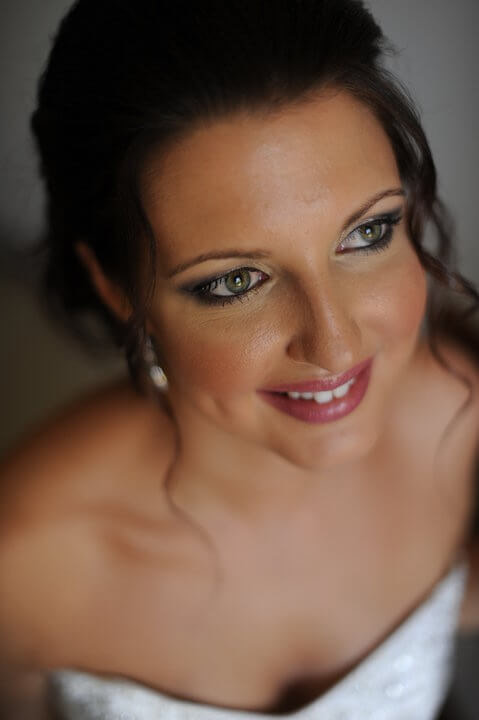 By Lyndle Bryan
Your wedding day is only one day out of many you'll spend with your spouse, but it's your first day as a married couple, the day when you pledge yourselves to one another in front of family and friends and vow to forsake all others. So it's kind of important.
As a result, there's a lot of pressure on the bride to look her best. Not only will all eyes be on you as you walk down the aisle, but you'll likely have photos and video footage to commemorate the event.
In other words, you want to present a glowing, radiant, and blemish-free facade. This means accomplishing photo ready makeup that will last all day long. Here are a few helpful tips to ensure you look like a million bucks on your wedding day.
CONSIDER HIRING A PRO
Sure, you do your own makeup every day. What's the big deal? The problem is that your everyday makeup isn't designed for the close-up scrutiny of a camera, especially not the HD, digital numbers that everyone uses these days.
Professional makeup artists, on the other hand, have the knowledge, experience, and products to ensure that you're ready for your close-up. Whereas you might think you're putting it on too thick, so to speak, a pro will know exactly what is needed to achieve perfection and ensure that it lasts through nervousness, tears, and endless kissing.
TRY LOOKS AHEAD OF TIME
Whether you hire a pro or you elect to go it alone where your makeup is concerned, it's important to do at least a single trial run before the big day. You should start by finding looks that interest you in bridal magazines or online.
From there, take tutorials if you plan to do your own makeup. Many not only show you how to complete a look, but tell you exactly which products to purchase in order to recreate a specific look.
If you're working with a makeup artist, take in photos of the looks you're considering. The artist should be able to tell you which ones will work best with your skin tone, hair color, and so on, and even which ones are the most classic and timeless.
Once you've got the makeup on you can decide whether it's right for your wedding day or if you want to try something else. You should also note how long it takes to complete your final look since you'll need to schedule accordingly on the big day.
SCHEDULE A FACIAL
The best way to ensure a flawless finish when you've got makeup on is to start with a blemish-free palette. Think about scheduling a facial a week or so before the wedding to get rid of any breakouts you may be suffering.
Why a few days before? A facial can leave your skin red and raw for a couple of days and it can take some time for blemishes to fade.
CONFAB WITH YOUR STYLIST
Hair and makeup go hand-in-hand, so you need to make sure you share your makeup look and wedding day schedule with your stylist. A good stylist will advise you on a hair look that goes well with your makeup and your dress.
In addition, including your stylist in the scheduling process will ensure that both your hair and your makeup look perfect and are complete by the time you're supposed to walk down the aisle.
WHEN IN DOUBT, GO NUDE
No, we're not saying you should go without makeup altogether, but it's probably best to opt for a natural look if you're at all uncertain about your makeup. Certainly you can opt for colors that you know work for you or try out a trendy cosmetics look. However, this might not be the best choice.
Think about the makeup you wore during your high school or college years. Better yet, go back and look at the cringe-worthy photo evidence. Do you want the same thing to happen with your wedding photos?
The answer is no. By going with a makeup look that defines and highlights your features but maintains a natural vibe, you can achieve a classic, youthful glow that transcends time and fashionable trends. This will mean wedding photos that you can treasure and proudly display for the rest of your married life.
CHOOSE THE RIGHT PHOTOGRAPHER
Don't forget that wonderful photos rely, in part, on the skill of the photographer as well. Different photographers have different styles, as well as different equipment, which may lend itself to a particular look. One of our favourites, Florent Vidal, has more of a natural photography style which suits brides with a more natural look.