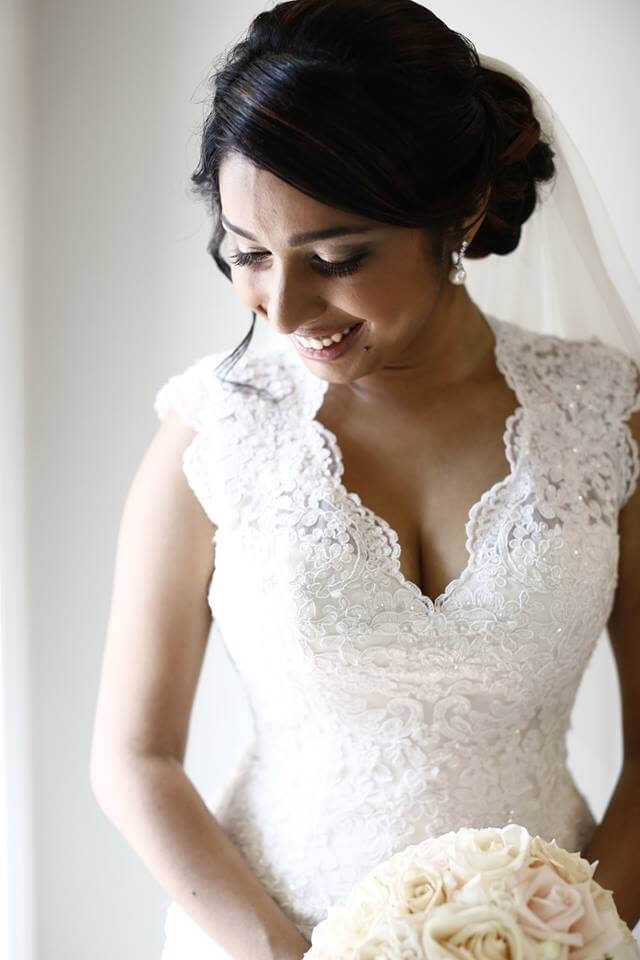 You want to look radiant, timeless, and practically perfect on your special day, especially since all the attention will be on you. This means avoiding common makeup mistakes that can ruin your photos or mess up major moments throughout the day. Here are a few that could foil your plans.
1. SKIPPING A TRIAL RUN
This is a big mistake that many brides make. Whether you're planning to do your own makeup or someone else is doing it for you, it's imperative to do at least one trial run to make a plan for the big day. If something doesn't work you'll know well in advance, and you can write down the products used and take pics to make sure you get your makeup looking just the way you want on your wedding day.
2. TRYING A NEW LOOK
The trial run is the time to try a new look that you've never done before, like a smoky eye or a bold lip. Do NOT mix it up on your wedding day, when your stress level will already be through the roof and a mistake could push you over the edge.
3. TOO MUCH
Wearing too much makeup is always a mistake. Granted, on your wedding day you'll likely put on more than usual, but the idea is to create a natural, flawless finish. Your makeup should be heavy enough to hold up to camera flashes, but, ideally, you should stick with a neutral palette that gives you a warm, healthy glow.
4. CONTOURING
Okay, contouring, in and of itself, is not necessarily a bad thing. What you don't want is to look like you've been contouring. This technique has long been used for photo shoots because it reads well on camera, but you need makeup that looks great in real life, as well. In other words, it's preferable to contour with care and hire a professional to do it for you.
5. PICKING THE WRONG MAKEUP
Remember the red carpet pics of Angelina Jolie where she looked like someone had thrown flour on her face? This is what can happen when a camera flash reflects off translucent powder. It might be good for your day-to-day, but when you're going to be taking a ton of photos, the last thing you want is the fatal combo of translucent powder and flashes. A professional makeup artist should know all the tips and tricks needed to make you look perfect for the camera and for your special day.
6. POOR USE OF SHIMMER
Subtle highlights on cheekbones, brow bones, and the inside corner of the eye can definitely help to make you look youthful and alert. But shimmering eye shadow can date your look, and you want photos to be timeless. So maybe skip extra shimmer.
7. BAD USE OF LIPSTICK
You could definitely do a bold, red lip for your wedding day (especially if you tone down the eye makeup). However, you don't want to have to reapply every 30 minutes, and you definitely don't want to spoil the big kiss by leaving half your lipstick smeared on the groom's mouth
It is important to get your lipstick right, so start by filling with liner, add a matte lipstick, blot, and then press a little powder over the top. This should help to stop smudging and keep your pout in place. Don't forget to do the finger trick to keep lipstick off your teeth.
8. DIY MAKEUP
Many brides do their own makeup for their special day. If you have the dough in your budget, just splurge on a professional. If you don't have extra cash, spend some time before the wedding watching tutorials online to perfect your technique and purchase the right products well in advance.
9. HIRING A NON-PROFESSIONAL
So your cousin went to cosmetology school and wants to do your makeup for you as a wedding gift. This could definitely help to save money, but make sure to do a trial run well in advance so you have time to hire a professional if your cousin doesn't cut it.
10. THINKING MAKEUP CAN HIDE EVERYTHING
A beautiful face starts with flawless skin, so don't think makeup is a miracle cure. Make an appointment for a facial a few days before the wedding (allowing for blemishes and redness to fade) and let your dermatologist know you may need an emergency appointment the day before to zap any major breakouts.